Middleton's jewels at Prince Philip's funeral
Do you know why the women of the royal family wore colourless jewels?
Web Desk – April 18, 2021
Queen Elizabeth II and all of Great Britain bid farewell to Prince Philip at a royal funeral like no other, restricted by coronavirus rules but reflecting his long life of military and public service.
Saturday's 50-minute service for the Duke of Edinburgh, who died on April 9 at age 99, was attended by just 30 guests.
Elizabeth, dressed in black and in a white trimmed black face mask, stood alone, head bowed as her husband of 73 years was lowered into the Royal Vault of St George's Chapel at Windsor Castle.
Her sombre attire had only one statement piece: a large diamond brooch. Known as the Richmond Brooch, it is believed to be the largest in the Queen's brooches collection.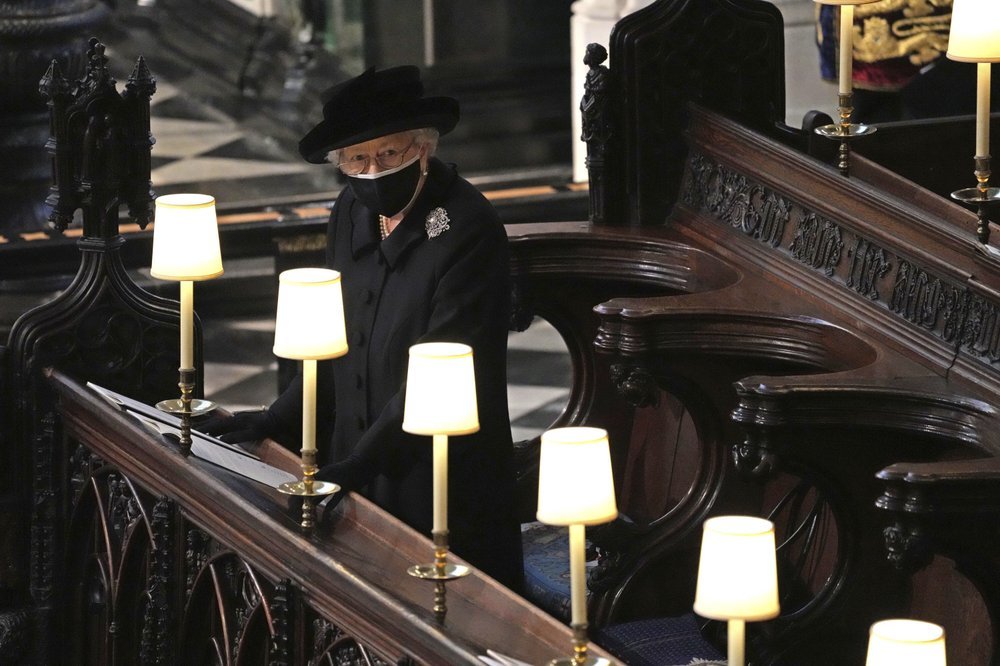 According to Elle, Elizabeth's grandmother, Queen Mary, was gifted the brooch, made by Hunt and Raskell, in 1893 as a wedding present. "The brooch features diamonds, set with two pearls — one large round centre pearl and the detachable pearl. Mary wore the broach on her honeymoon at Osborne House on Isle of Wight," said the publication.
The Queen, known for her statement-making brooches, paired the dazzling piece with pearl earrings.
The jewellery worn by the Duchess of Cambridge, Kate Middleton, also held special meaning.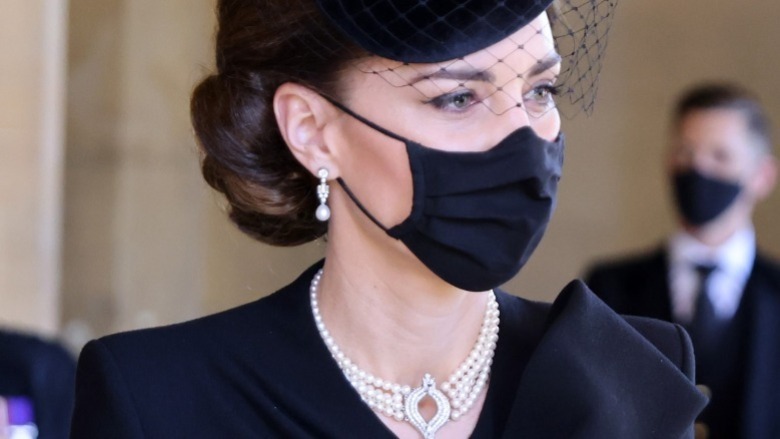 Kate, clad in a black Roland Mouret dress and a veil, wore a pair of diamond and pearl earrings along with a four-row pearl choker — both reported to be on a long-term loan to her from the Queen from her personal collection.
According to British Vogue, the jewels were gifted to the Queen in 1947 in celebration of her marriage to Philip. Made from cultured pearls gifted to Her Majesty by the Japanese government and designed by Garrard, the Queen has worn the necklace on a variety of high-profile occasions.
Kate wore the same choker during a celebration dinner for the Queen and Prince Philip's 70th wedding anniversary.
The Queen also famously loaned the necklace to Princess Diana — whose style reportedly inspired the design of the choker — just over a year after her marriage to Charles, added Vogue. Diana wore it to meet Queen Beatrix of the Netherlands at Hampton Court Palace in 1982 with Queen Mary's Lover's Knot Tiara.
Camilla, the wife of Prince Charles and Duchess of Cornwall, chose the silver Rifles Brooch that she previously wore in July 2020, which is when Prince Philip's role as Colonel-in-Chief of the infantry regiment The Rifles was formally handed over to her.
The women notedly wore only pearls and diamonds because, as The Independent explained, it is tradition to wear colourless jewels during periods of mourning.
Following the death of Prince Albert in 1861, Queen Victoria never wore colour again, a sartorial rule that extended to her jewellery, said the Vogue article. "Instead, she stuck to diamonds, jet, and countless strings of pearls, which have been associated with grief and tears since at least Roman times."
Through the years, the article noted, the Windsors have followed her example, with pearls becoming a hallmark of their traditional mourning dress.